รายละเอียดสินค้า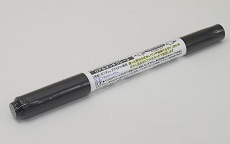 รายละเอียด:
ปากกากันดั้ม สีเทา GM406 Gundam Marker Real Touch Gray
ราคาสินค้าไม่รวมค่าส่ง ปณ.
จำหน่ายด้ามละ 125 บาท
* ซื้อยกกล่อง 10 ด้ามราคาเพียง 1,000 บาท เท่านั้น *
-Gundam Marker Pen is a popular brush pen designed to easily recreate the original colors of Gundam and BB Warriors. The fine brush tip is perfect for the finer details, with great color and uses expansive alcohol based paint. Variety of colors in the series, with 6 metalic colors, 3 neon colors, and 7 special colors, a total of 16 colors.